DC-DC Converters (to 288 watts)
Regulated Power Supplies
Narrow Profile
wide input ranges
single output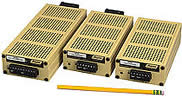 MAIN SCREEN
These state-of-the-art DC-DC converters combine excellent regulation and ripple specifications with broad input ranges, and they are available in a large selection of output voltages and current ratings. Accessory mounting kits permit easy installation on a vertical panel, wall or on a DIN rail.
Outputs from 3.3 to 125 Vdc.
Input range ratios of 2:1 and 4:1.
Output status indicator.
Overvoltage protection.
Overload/short circuit protection.
Input/output isolation exceeds 2828Vdc.
Remote sensing.
Extruded aluminum case.