Acopian Promises To Ship Within 3 Days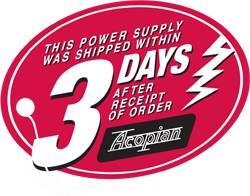 . . . and we keep that promise. For more than 65 years, Acopian has been shipping AC to DC power modules within three days after receipt of an order. During this period, the Acopian line has expanded from the original Plug-in modules to a broad range of different types of power supplies.
Our unique 3-day shipping guarantee has prompted many questions. Below are some of those most often asked:
I've seen other power supply manufacturers advertise "same day shipment". Isn't that better than 3-day shipment?
A typical vendor's "same day shipment" advertisement can only be fulfilled if the power supplies you need are in stock. Otherwise, a four to six week delay is not unusual before inventory is replenished and your order is shipped. Acopian's 3-day shipment promise applies to ALL 3 Day models (larger units ship within 9 Days) and is not dependent on the quantity in stock. We build each unit after the order for that unit is received. If an order is needed faster, often times we can ship in less than 3 days.
What does Acopian's 3-day shipping promise mean?
It means that power modules listed on Acopian's website (which is the same as Acopian's full-line paper catalog) are shipped within 3 days after we receive your order. High Voltage, Redundant, Rack Mounting, Systems and certain Switching power supplies are shipped within 9 days.
Do options affect shipping time?
The 230 volt input option and moisture/fungus-proofing option require two additional days. All other options do not affect shipping time.
Is the 3-day promise affected by quantity? Suppose we need 50 or 100 pieces?
The 3-day promise applies to orders for five or less modules. (Two or less for 9-day items.) If requested, Acopian will ship five pieces of a larger order in 3 days and, with consideration of your requirement, schedule the balance. (Since each shipment is processed and priced as a separate order, for lowest prices request shipment in one lot.)
What if I need four or five different models? Does the 3-day promise still apply?
Yes. Guaranteed 3-day shipment applies to one model or to a combination of models.
Do I have to ask for 3-day shipment of my order?
3-day shipment is automatic. In fact, you must tell us if you want the shipment delayed.
How long after you ship will I have the power supplies?
Transportation time varies with the carrier used. Unless otherwise requested, Acopian ships small orders by UPS Ground.
You say Acopian has never failed to meet the 3-day promise. How do you do it?
Our facilities have been designed and equipped to meet our 3-day shipment promise. When your order is received, your power supplies are built specifically for you and shipped within three days. We do not ship from stock. (For this reason we are unable to accept returns for credit.)