External Overvoltage Protector
These modules can be used with any manufacturer's power supply between 5 Vdc and 150 Vdc.
MAIN SCREEN
These Overvoltage Protectors may be used as independent accessories for any power supply to prevent the output voltage from exceeding the trip point of the protector under any condition. When triggered, the protector short circuits the power supply output, causing the LED indicator to turn off. These modules can be used on power supplies with DC voltages of 5 to 150 Vdc. They are often used to protect integrated circuits and other sensitive loads. Typical applications set the OVP trip point .5 Vdc (or +15%, whichever is greater) above application voltage.
STANDARD FEATURES
Reverse Connection Protection
Noise Filtering
Green LED 'ON' Indicator
Small, lightweight
How To Order
Model
Trip Point Range
Order/Quote
($)
Price
EOVP-510
5 to 10 Vdc
Order/Quote
$125.00
EOVP-1050
10 to 50 Vdc
Order/Quote
$135.00
EOVP-50150
50 to 150 Vdc
Order/Quote
$150.00
Factory-Set Trip Point
Custom
Contact Us
$150.00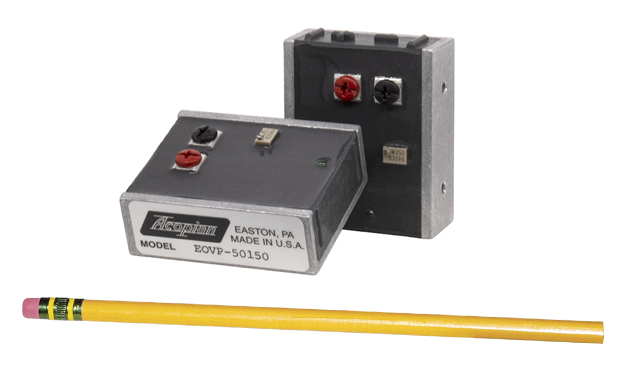 SPECIFICATIONS
Voltage Ratings: 5v to 150v.
Hipot to Case: 1500 VAC.
Isolation to Case: 500 VAC; 707 Vdc.
Cooling: Convection/conducted cooled.
Maximum Continuous Current, Short Term:
35A (< 1 minute @ 40°C, no heat sink).
Maximum Continuous Current, Long Term:
7A (@ 40°C, no heat sink).
35A (@ 25°C, heat sinked).
Maximum Pulsed Current: 100A for < 50ms.
Maximum Case Temperature: Temperatures above 90°C can cause device failure.
Mounting: Threaded mounting holes on two surfaces permit mounting to a chassis, cabinet wall or bracket.
Trip Point Tolerance: ±100 mV (5 to 10 Vdc); ±500 mV (11 to 50 Vdc); ±2v (50 to 150 Vdc).
Temperature Coefficient: ± 0.01%/°C (typical).
Ambient Operating Temperature: -20°C to 40°C (Derate max current 1%/°C to 71°C).
Trip Point Drift, Long Term: ± 0.02% or 10 mV, whichever is greater (typical), over 8 hours.
Trip Recovery Voltage: < 0.1% of trip voltage or 50 mV, whichever is greater.
Response Time: 2ms (typical). Tested with voltage ramp rate of 3 Vdc/ms, typical linear power supply, no load, open sense response.