'Narrow Profile'
Circuit Enclosure Boxes
Versatile enclosures for housing prototypes, adapters, testers, etc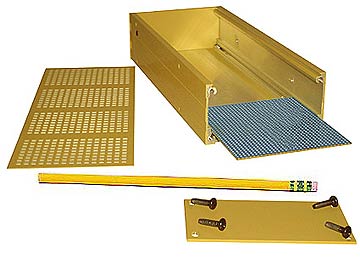 Description
Moderate-dissipation components may be directly mounted to the case for heat sinking. Connectors, switches, controls and indicators are easily installed on the front and rear covers.
Sides and Bottom: Attractive extruded aluminum channel (.08" thick) withstands even severe abuse.
Top Cover: Perforated for ventilation, the sturdy aluminum top (0.032" thick) slides into slots without the need for mounting hardware.
Front and Rear Covers: Aluminum (0.032" thick).
Internal Circuit Board Mounting: Grooves 1/4" above the inside bottom of the case are for holding a circuit board (0.032" thick).
Color: Flat gold.
Mounting: Threaded mounting holes are provided to permit mounting the boxes to an equipment frame or bracket. Accessory Mounting Kits are available for wall mounting or DIN Rail mounting.
Accessories
Circuit Board: Perforated board for mounting hand-wired components. The price is $2.00 per inch. To order, determine the length of perforated board desired and then add suffix "B?" to the model number, replacing the "?" with the length of perforated board desired. For example, if you want model EN8 with a 2 inch perforated board and a heat sink, the model number would be EN8B2H, and the price would be $30+$4+$12=$46.
Mounting Kits: For wall mounting or DIN Rail mounting.
Heat Sink (available for EN8): High-dissipation semiconductors may be mounted on an accessory heat sink. Provided with mounting hardware that thermally isolates the heat sink from the case. The heat sink is black anodized. To order, add suffix "H" to model number and $12.00 to price.
Drawing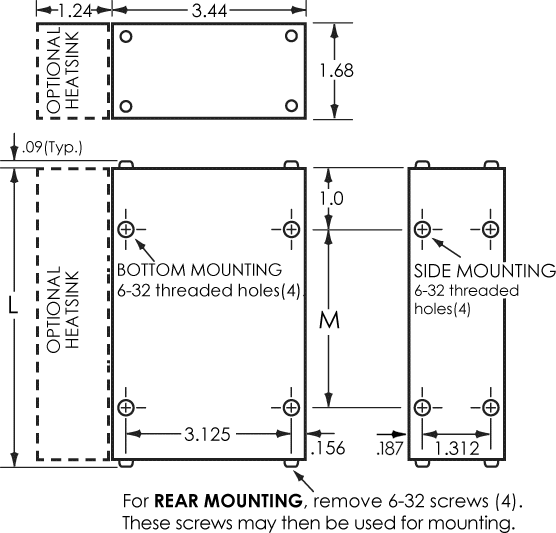 (All dimensions in inches)


      |      |      |  Approx.    | Price
Model |  L   |  M   |  Weight     |  ($)
------|------|------|-------------|----------
 EN6    6.59   4.0      9 oz.        27
---------------------------------------------
 EN8    8.47   5.0     12 oz.        30
---------------------------------------------