Application Notes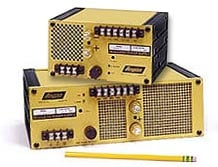 A switchmode regulated power supply regulates the output voltage by the use of a complex high frequency switching technique. A switchmode power supply has moderately good load and line regulation, but significantly higher ripple and output noise than linear regulated power supplies. A switchmode power supply also has a slow transient response, but high efficiency.
Typical applications for a switchmode power supply
general purpose use
high power
small size & light weight
long hold-up time
high efficiency
Power Factor Correction
wide input range
digital circuits
View our entire line of Switchmode Regulated Power Supply Models
Click here to view a table that compares a
switchmode power supply vs. a linear power supply vs. an unregulated power supply.