Plug-In (3-Day Power Supply)
Linear Regulated Power Supplies
AC-DC wide adjust output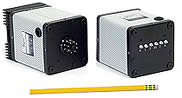 Main Screen
An Acopian Plug-in power module can be installed in a matter of seconds. Simply plug it into a standard octal(8-pin) socket. Nothing else is ordinarily necessary. (Threaded mounting holes are provided in the base for fastening the module when used in other than the upright position, or if subject to extreme vibration.)
To replace a module - for example, where added circuitry calls for a higher current rating - just unplug the old, plug in the new. No need to touch any wiring. And as a result of years of product refinement, your Acopian Plug-in provides the highest reliability of any available series-regulated power supply.
May be used in series.
Delivers current surges without damage-to protect against prolonged overload and shorts, use of an input fuse is recommended.
No derating or additional heat sinking required.
---