Mini Encapsulated - PC Board Mounting (3-Day Power Supply)
Linear Regulated Power Supplies
AC-DC dual tracking outputs
(±5v, ±10v, ±12v and ±15v)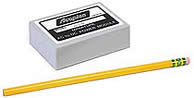 All Models U.L. Recognized
(ES-10 case size models UL478 certified only)
One Year Warranty
ORDER ONLINE
MAIN SCREEN
These dual tracking output mini-modules are compact and convenient sources of the voltages required to power operational amplifiers and related circuits.
They may be mounted directly on printed circuit board assemblies, simplifying system layout and minimizing the connectors and wiring required.
May be used in series.
No derating or heat sinking required.
Short circuit protected.
---