Application Notes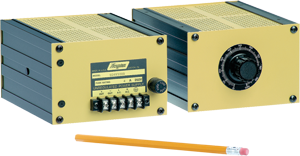 Variable (or adjustable) power supplies are capable of delivering a variable output voltage or current. These power supplies fall into three categories: locally adjustable power supplies, remotely adjustable power supplies, and programmable power supplies. Locally adjustable power supplies can be adjusted through a built-in potentiometer, remotely adjustable power supplies can be adjusted through a remotely located potentiometer, and programmable power supplies can be of the analog type with a remote voltage source for adjustment, or digitally adjustable through RS232, USB, or Ethernet communications.
Acopian manufactures several power supply models that are variable. Our Low Profile Switchers are capable of 0-5VDC and 0-10VDC remote analog programming, and also can be adjusted using built-in potentiometers. Our 1U Switchers are capable of remote analog programming, adjustment using built-in potentiometers, or digitally programmed through RS232, USB, and Ethernet communications. Our special systems using our Gold Box Infinity Linear Regulated Power Supplies or our Low Profile Switcher models can be equipped with local potentiometer adjustability, analog voltage programming or RS232, USB, and Ethernet interfaces.
Why use a variable power supply?
More and more systems that use power supplies are becoming computer controlled. Using a variable/programmable power supply allows digital or analog control of the power supply output by a control system for maximum versatility. The control system can control and monitor the power supply output voltage and current from virtually anywhere there is an Ethernet connection. Thus, plant-wide automation parameters can be monitored by one central computer, and process variables can be adjusted to maximize production and quality.
Can programmable variable power supplies be adjusted manually if the digital interface or computer fails?
All Acopian programmable power supplies have local adjustment pots mounted in the power supply (Gold Box Infinity use suffix C2). In the event of an interface failure, the operator can revert to manual control with the addition of a simple jumper(s).
What is the adjustment range of Acopian's wide adjust output power supplies?
All Acopian Wide Adjust Output power supplies are fully adjustable from 0V to full rated output voltage. This is regardless of whether you are using the internal potentiometers, remote analog programming, or remote digital programming.
Acopian variable power supplies:
Gold Box Infinity Linear Regulated Wide Adjust Output Power Supplies
30 - 84 Watts
Locally adjustable with internal potentiometers (C1 or C2 option)
0-5VDC or 0-10VDC programming (C5 or C6 option)
Remote monitoring (C7 option)
RS232, USB, Ethernet programming and monitoring (when used in a system rack, benchtop, or wall mount)
Remote enable or inhibit
Up to 150Volts
Voltage and current regulating
Low noise and ripple
Highly configurable
Pluggable connectors
1U Switching Regulated Wide Adjust Output Power Supplies
450-720 Watts
1U rack or bench top
Up to 135 Volts
Short circuit and overload protected
Overvoltage protection
Pluggable input/output terminal block
Universal input (90-265VAC, 49-420HZ, 110-350VDC)
Power factor correction (PFC)
Constant current and constant voltage modes
Locally adjustable with internal potentiometers
Programmable 0-10VDC (0-5VDC with C5 option)
RS232, USB, Ethernet programming and monitoring
Remote enable or inhibit
Internal EMI filter and RFI shielding
Soft start
Low Profile Switching Regulated Wide Adjust Output Power Supplies
450-720 Watts
Up to 135 Volts
Short circuit and overload protected
Overvoltage protection
Pluggable input/output terminal block
Universal input (90-265VAC, 49-420HZ, 110-350VDC)
Power factor correction (PFC)
Constant current and constant voltage modes
Locally adjustable with internal potentiometers
Programmable 0-10VDC (0-5VDC with C5 option)
RS232, USB, Ethernet programming and monitoring (when used in a system rack, benchtop, or wall mount)
Internal EMI filter and RFI shielding
Soft start
Gold Box Linear Regulated Wide Adjust Output Power Supplies
7 - 150 Watts
Locally adjustable with internal potentiometers
Remote resistor programming
Fixed and adjustable current limiting
Low noise and ripple
Gold Box Linear Regulated Wide Adjust Output Programmable Power Supplies
7 - 150 Watts
Locally adjustable with internal potentiometers
0-10VDC or potentiometer programming
Fixed current limiting
Low noise and ripple
Gold Box Linear Regulated Wide Adjust Output Programmable Rack Mount Power Supplies
60 - 270 Watts
Locally adjustable with internal potentiometers
0-10VDC or potentiometer programming
Fixed current limiting
Low noise and ripple
High Voltage AC-DC Modular Power Supplies
30 - 60 Watts
1000 - 30000 volts output models
Constant voltage or current
Locally adjustable with internal potentiometers
0 - 5.1VDC remote programming
Remote monitoring and inhibit
Pluggable terminal block
Arc/short circuit protected
High Voltage DC-DC Modular Power Supplies
30 - 60 Watts
DC input from 21.6V to 32V
1000 - 30000 volts output models
Constant voltage or current
Locally adjustable with internal potentiometers
0 - 5.1VDC remote programming
Remote monitoring and inhibit
Pluggable terminal block
Arc/short circuit protected
High Voltage AC-DC Rack Mount Power Supplies
30 - 60 Watts
1000 - 30000 volts output models
Calibrated 10-turn voltage and current controls
Voltmeter, ammeter, and handles are standard
8' long shielded output cable
1000 - 30000 volts output models
Constant voltage or current
Locally adjustable with internal potentiometers
Resistor remote programming
Remote monitoring and inhibit
Arc/short circuit protected
Low Profile Wide Adjust Output DC-DC Converters
450-720 Watts
Up to 135 Volts
Short circuit and overload protected
Overvoltage protection
Pluggable input/output terminal block
DC input: 110 - 350 VDC
Power factor correction (PFC)
Constant current and constant voltage modes
Locally adjustable with internal potentiometers
Programmable 0-10VDC (0-5VDC with C5 option)
RS232, USB, Ethernet programming and monitoring (when used in a system rack, benchtop, or wall mount) Internal EMI filter and RFI shielding